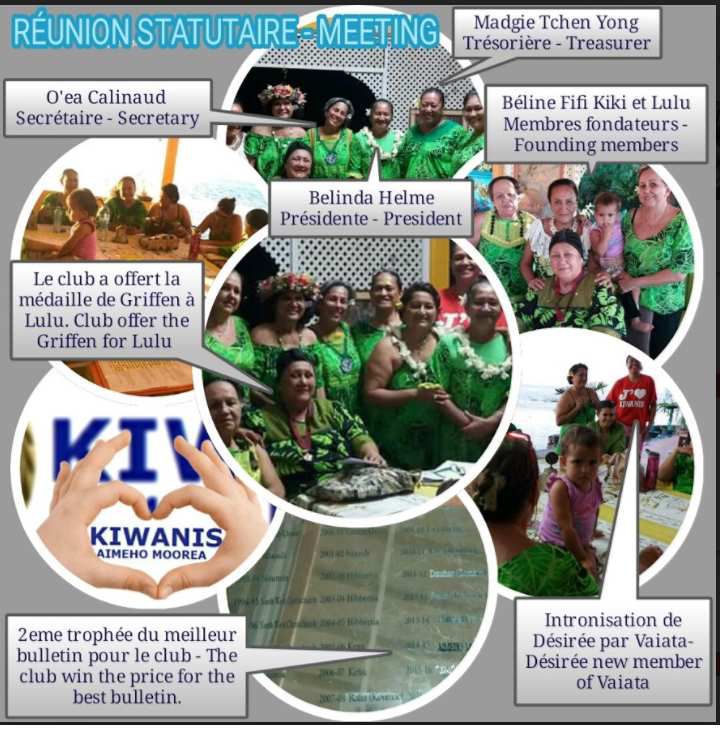 Notre réunion statutaire a eu lieu chez Vaiata le mercredi 20 septembre. A l'ordre du jour :
Intronisation de Désirée, marrainée par Vaiata. Désirée était sortie de notre club pour raison familiale. Sa situation s'étant améliorée elle renouvelle son intronisation. Bienvenue à Désirée ! Elle nous avait manqué, avec son grand sourire !

Remise de la médaille de Griffen : cette année, le club a l'honneur d'offrir la Griffen à Lulu pour ses 22 ans de service au sein du Kiwanis. Lulu est une des 4 membres fondatrices de notre club et la médaille et le pin's lui a été remis par les 3 autres fondatrices du club : Kiki, Berline et Fifi.
4 membres ont déjà reçu cette distinction : Kiki, O'ea, Vaiata et Fifi.
Remise de trophée du meilleur bulletin français : Pour la deuxième fois O'ea fait remporter le trophée au club. La première fois elle l'avait gagnée en 2014/2015 lors de sa première participation.
Our statutory meeting was held at Vaiata on Wednesday, 20 September.
On today's agenda :
- Intronization of Desiree, marinated by Vaiata. Désirée had left our club for family reasons. Her situation having improved she renewed her enthronement. Welcome to Désirée! She had missed us, with her big smile!
- Gift of the Griffen Medal : This year the club has the honor of offering the Griffen to Lulu for his 22 years of service in Kiwanis. Lulu is one of the 4 founding members of our club and the medal and the pin was awarded to her by the three other founders of the club: Kiki, Sedan and Fifi.
4 members have already received this distinction: Kiki, O'ea, Vaiata and Fifi.
- Trophy award for the best French newsletter: For the second time O'ea won the trophy at the club. The first time she won it in 2014/2015 on her first participation.
Passation de pouvoirs, les officiers de 2017/2018 :
The Officers :
Présidente : Bélinda HELME - Vice-présidente : Hortense WHITE
President Vice president
Secrétaire : O'ea CALINAUD - Secrétaire adjointe : Kulani ROBSON
Secretary Assistant secretary
Trésorière : Madgie TCHEN YONG - Trésorière adjointe : Béline TERAI
Treasurer Assistant treasurer
Responsables de Comités en 2017/2018 - Committee leaders :
YCPO : Vaiata assistée de Madgie, Kulani et Amélie
YS : Madgie assistée de Vaiata, Kulani et Amélie
K.Kids : Fifi et Béline
CS : Fifi assistée de Patricia, Eimeo, Hatara et Evelyne
VHS : Lulu assistée de Bélinda et Hortense
Et cette année notre Lieutenant-Gouverneur est Vaiata Friedman.
Our LTG for this year is Vaiata Friedman